What Size Art Should I Create For Licensing?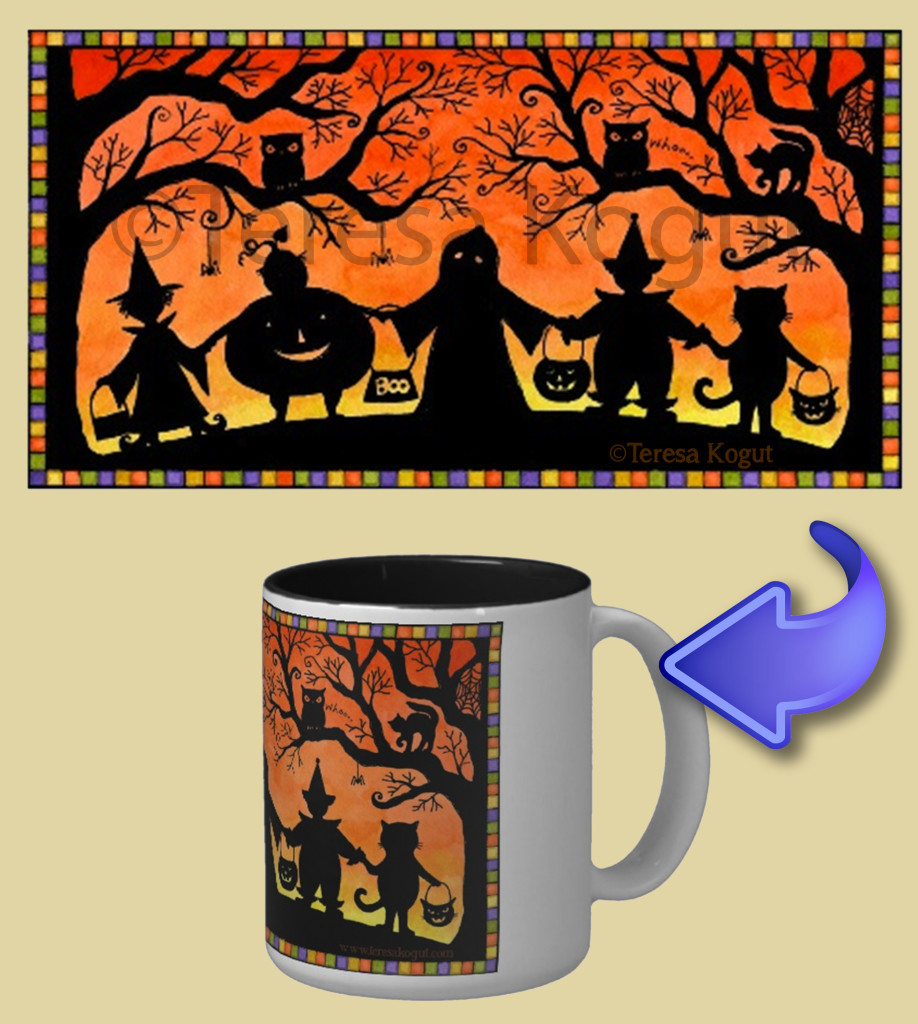 "Trick or Treat Under The Trees"
©Teresa Kogut, all rights reserved
mug available at Zazzle
What size should I create my art if I plan to license it for products? The quickest answer is "don't paint too small", however, there are some other important considerations to take into account.
Always have your art scanned or photographed at the original size, 300 dpi minimum, rgb .tif file. If they (or you) can scan at 400 – 600 dpi, do it.
If you have the luxury of knowing exactly what the product is you are designing for and have the specifications, then I recommend you paint it at that size or larger, depending on how small the product is (see example below). However, most of the art we create will not be for a specific product.
Let's say you are painting an image for greeting cards measuring 5″ x 7″. I recommend you paint the image 10″ x 14″ and here's why: later a licensing opportunity may come along and they want to license that same image for tote bags, but the art needs to measure 11″ x 15″. If you painted the original at 5″ x 7″, you would either have to re-paint it larger or have it re-scanned at a higher resolution (which doesn't always look good if the image has to be enlarged too much), however, if you have painted the image at the larger size, you would be all set for your new licensing opportunity. Images always look good when reduced but will become blurry and pixelated if enlarged too much. So play it safe and paint large.
Take into consideration how you will have your art created into digital files. For example, I have a large format scanner. I can scan images in-house up to 12″ x 17″. If the image is 24″ x 17″, I will scan the two halves and put together using Photoshop. If you don't have a scanner, find out where you will be having your art scanned and ask them how large of an image they can scan – they will charge more if they have to scan twice and put together using Photoshop, so ask about that as well.
If you paint on large canvases, you will need to find a professional photographer to photograph your art. Tell them what you are using the digital files for so they have an understanding of your needs. If the painting is really LARGE, say 24″ x 36″, you don't need the digital file to be 100%. Here is an example of one of my 24″ x 36″ paintings…the digital file is 18″ x 27″ at 300dpi. The file is 125.4 MB! That is a huge file and I will never have to worry about it not being large enough.
If you create your art in Illustrator or Photoshop, then you are all set and don't have to worry about how to get your art into digital format, but the size matters here too! Make sure you are creating your art at 300 dpi minimum and large enough to work for many different product formats.
I know cost can be an issue, especially when first starting out in art licensing, but you HAVE to have your art in digital format. Look around for the best price. Call your local photographers and photographic studios and compare prices.
I also know since you are letting other people handling your original art, you want someone you can trust. Get referrals, ask around, visit their studio to see how organized and clean (or not) they are. Once you find someone you trust, they will become your greatest asset.
If you can't scan your art yourself and are struggling to find someone local to work with, I know of a very trustworthy photographic studio in New York that I use to work with before I got my scanner. They take great care of the art that comes in and their prices are very reasonable. Email me at teresakogut3@gmail.com if you art interested in their contact information.

I hope this article was helpful to you! I wish you well in your search for finding a solution to getting your art in digital format!