Rug Hooking Week at Sauder Village 2014

Historical Sauder Village in Archibold Ohio is the perfect setting rug hooking week. The village itself has a host of craft buildings and studios which are home to several nationally recognized craftsmen working with traditional crafts in both historic and modern interpretations. Also on the premises is the carpeted 10,000 square foot Founder's Hall. The hall becomes a center for receptions, trade shows and exhibitions, including Sauder Village's annual quilt, rug hooking, doll and woodcarving shows.
I was honored to vend and teach punchneedle at Sauder Village this year during rug hooking week. I've vended at many shows during my career but this show was extraordinary. The energy in the hall was high as women (and a few men) from all over the country gather to view the beautiful hooked rugs on display and shop for wool, patterns and other goodies from the vendors. During the week there are many workshops going on throughout the day and evenings as well as 4-day retreats that are held over at the Heritage Inn.
I've been to Sauder Village Rug Hooking week three times in previous years just on a day trip, but staying for the entire show was thoroughly enjoyable. I met some of the nicest folks and saw many friends from Michigan!
The Heritage Inn is absolutely beautiful. Throughout the Inn the beautiful fireplace, atriums with live plants, comfortable furniture, natural wood timbers and hand-forged lamps and railings set the casual, friendly tone. The quilts and hooked rugs decorate the walls making the Inn even more like home.
There were nearly 600 rugs on display this year! Because I was vending, I didn't have a lot of time to walk around and observe the rugs like I had wanted. I did arrive early one morning to snap shots of some of the rugs that really spoke to me. Believe me, all the rugs on display were beautiful but I didn't have time or room on my camera to take photos of each one. I also don't have the information about each piece but will share what I do have. Sorry if I missed your rug!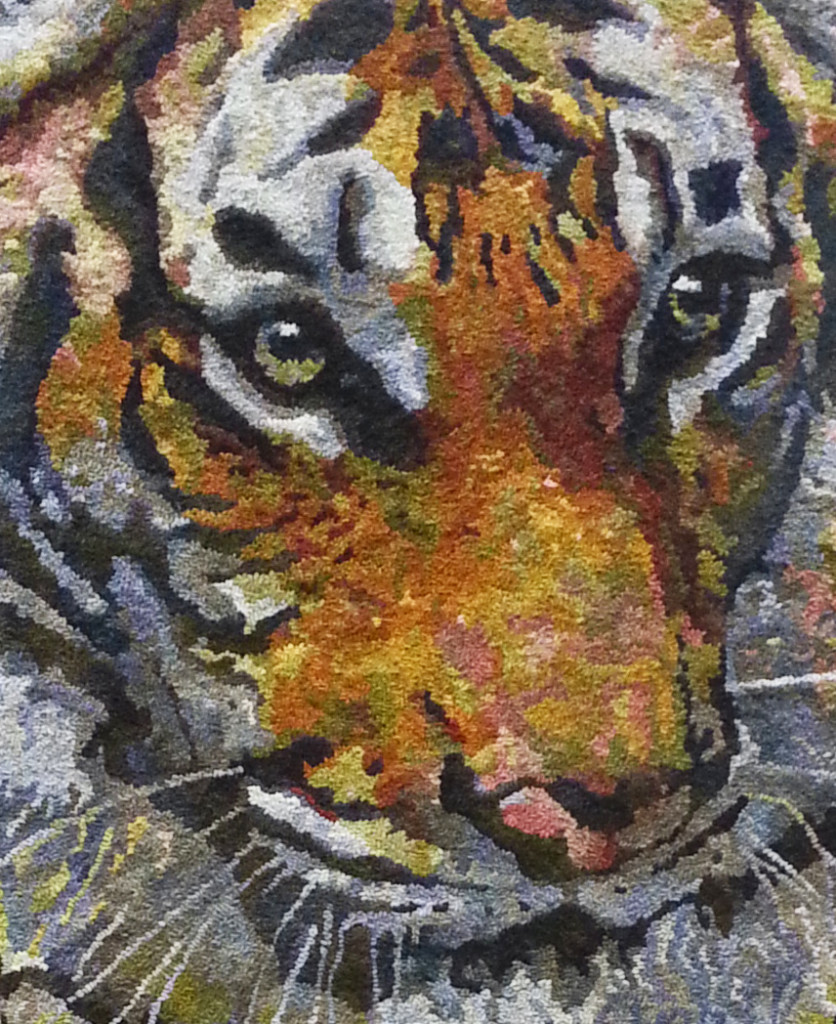 "Satu"
designed and hooked by April D DcConick of Brighton, Michigan
measures 36″ x 48″ using 11 colors in 88 shades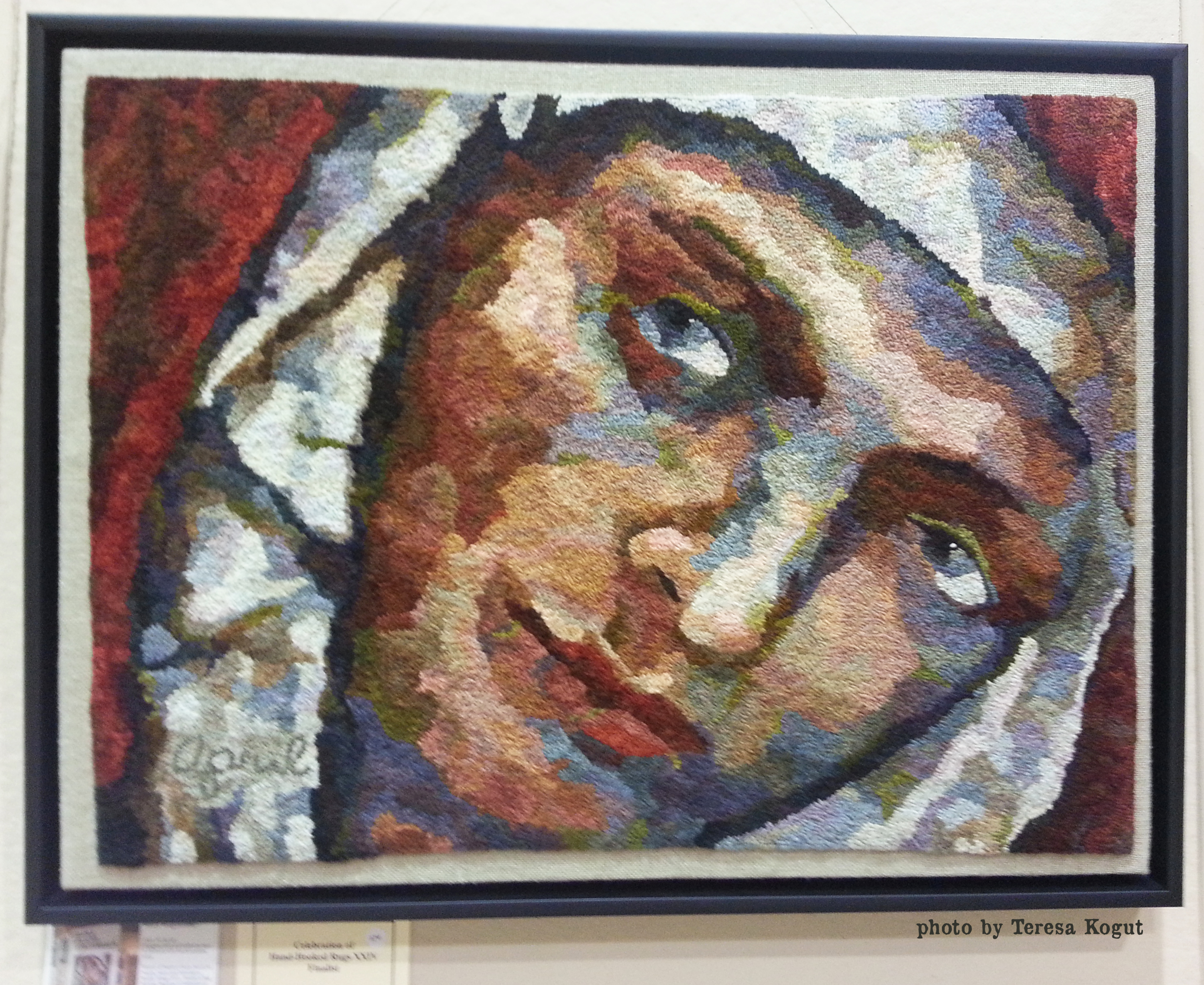 Also designed and hooked by April D DeConick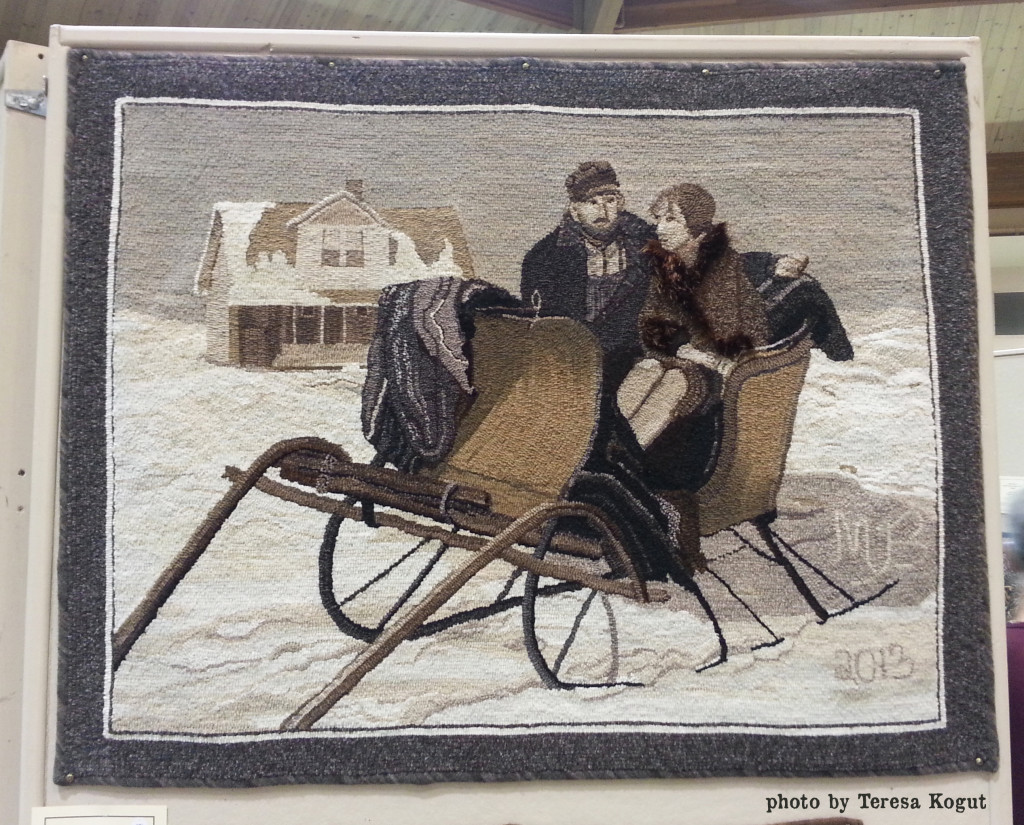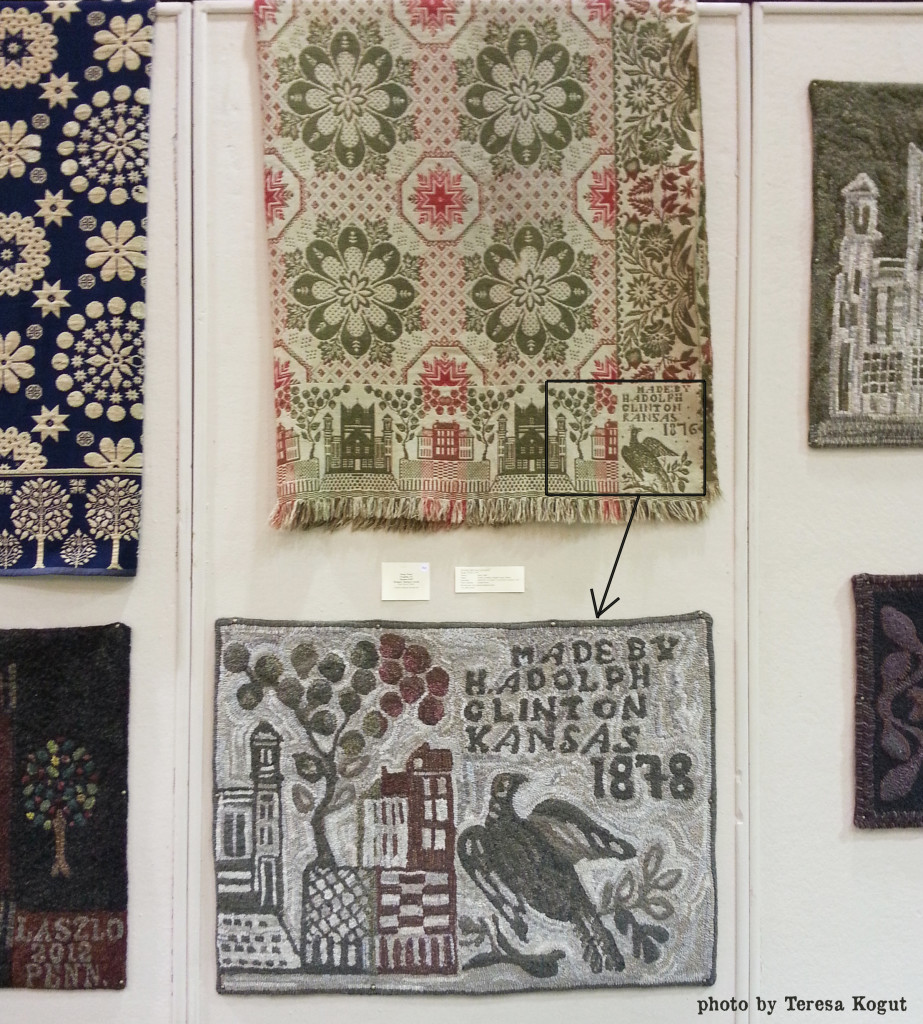 This display was interesting. The coverlet rug patterns, designed by Barbara Carroll of Woolley Fox, were created to support the National Museum of the American Coverlet. Each rug design was inspired by the elements, shapes, and figures found in American coverlets.  Read more here.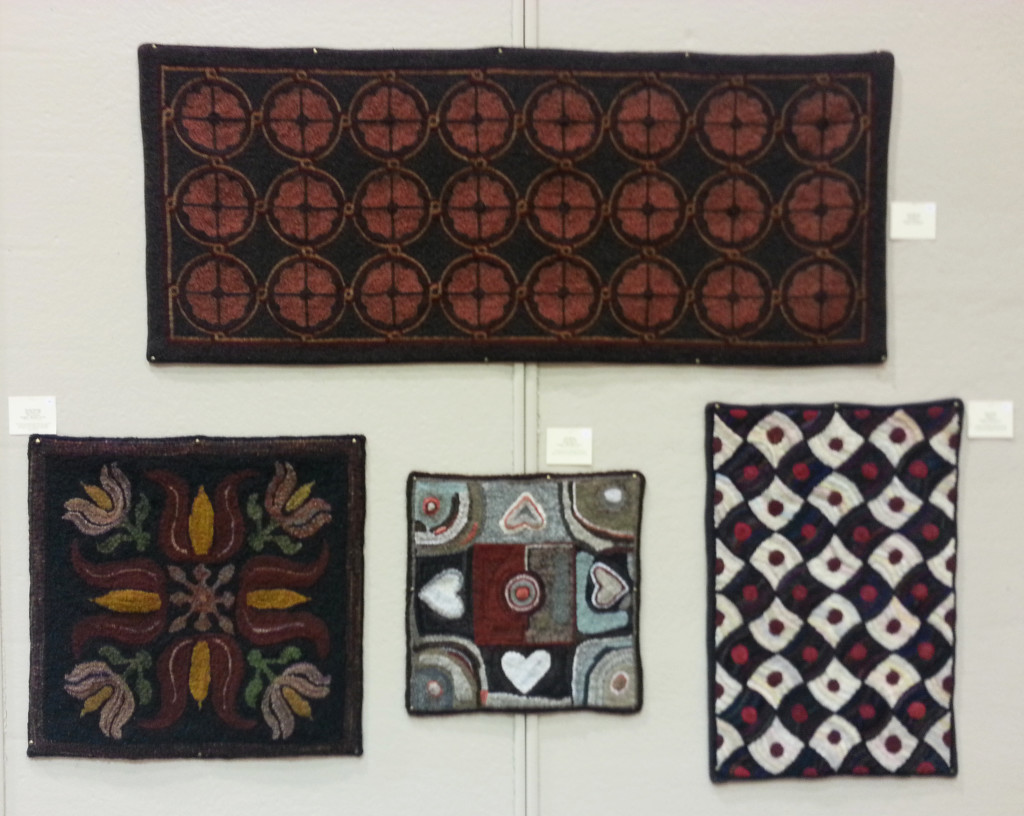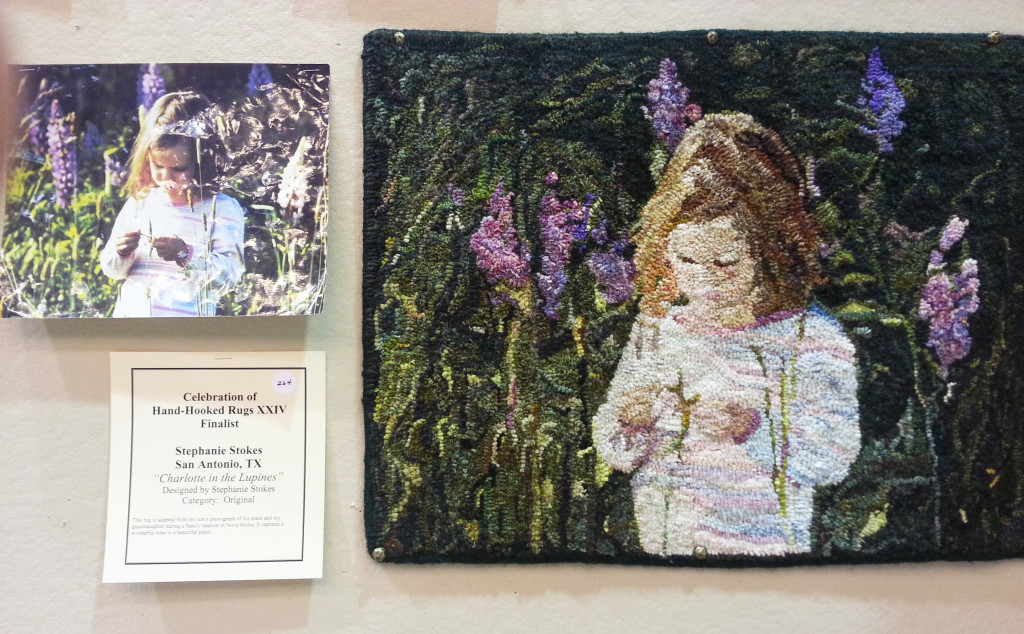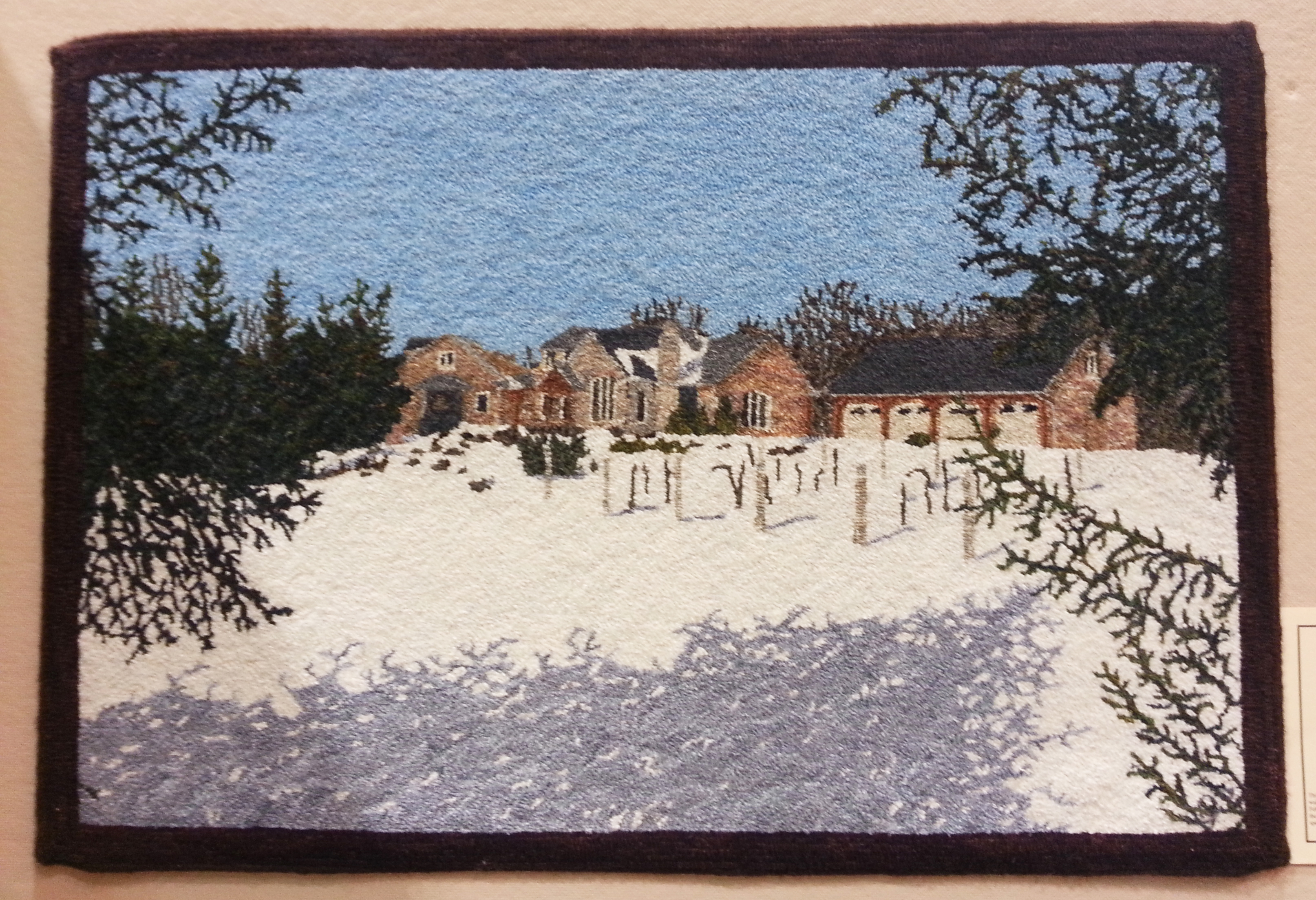 "February"
Celebration of Hand-Hooked Rugs XXIV Honorable Mention
Rug designed and hooked by Gunda Gamble of Ariss, Ontario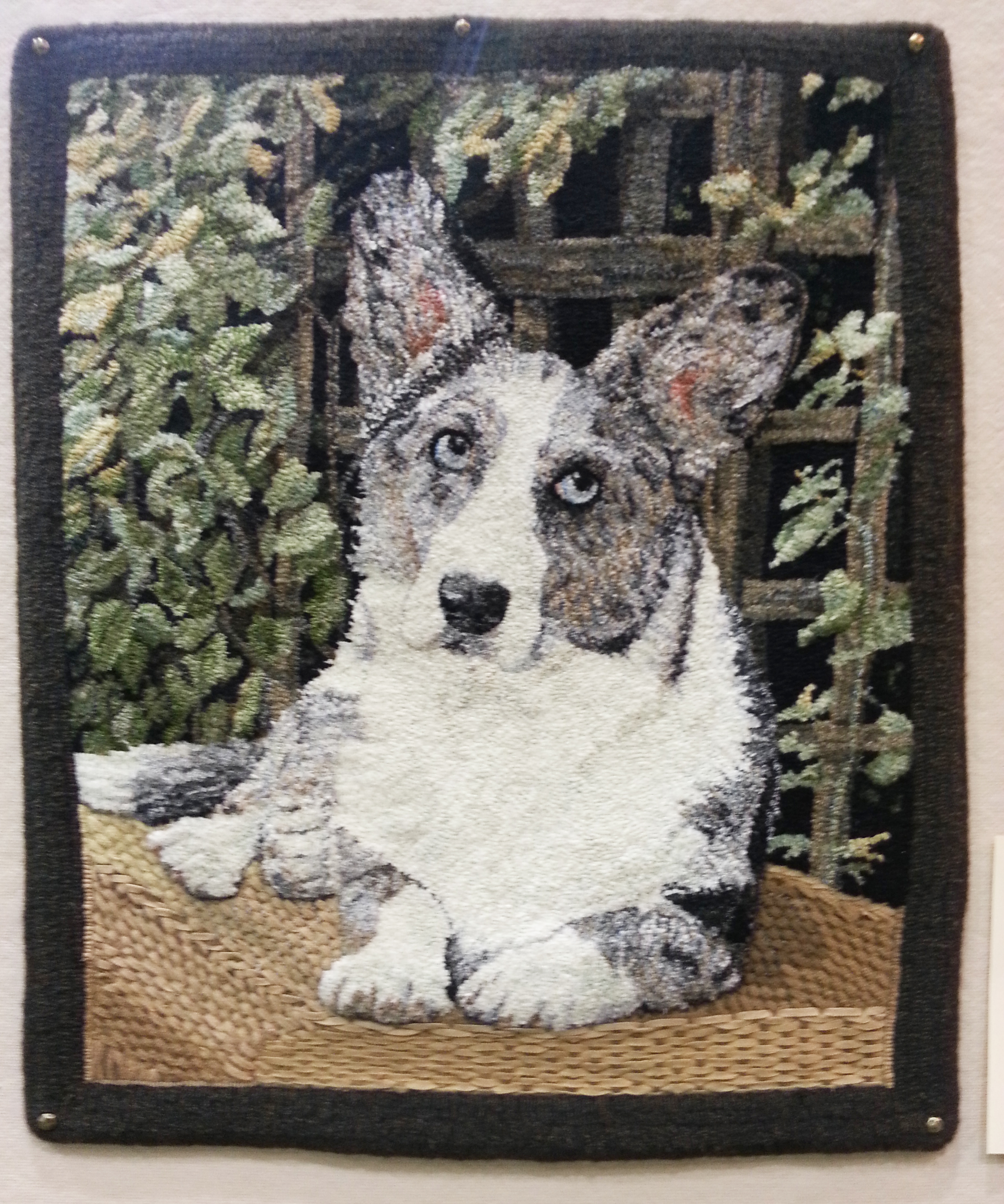 "Sapphire"
Celebration of Hand-Hooked Rugs XXIV Finalist
Designed by Leonard Feenan, hooked by Judy Carter of Willow Street, Pennsylvania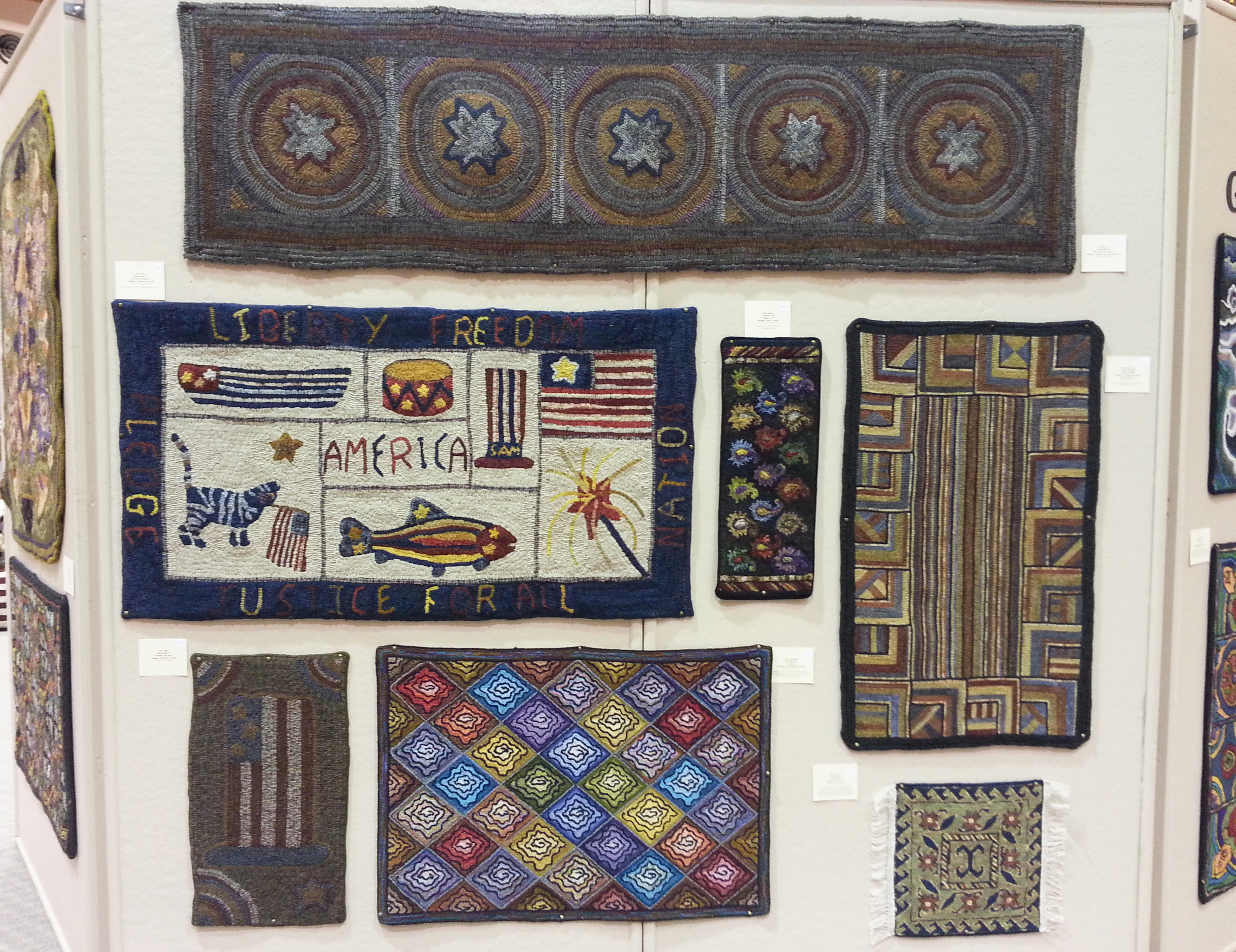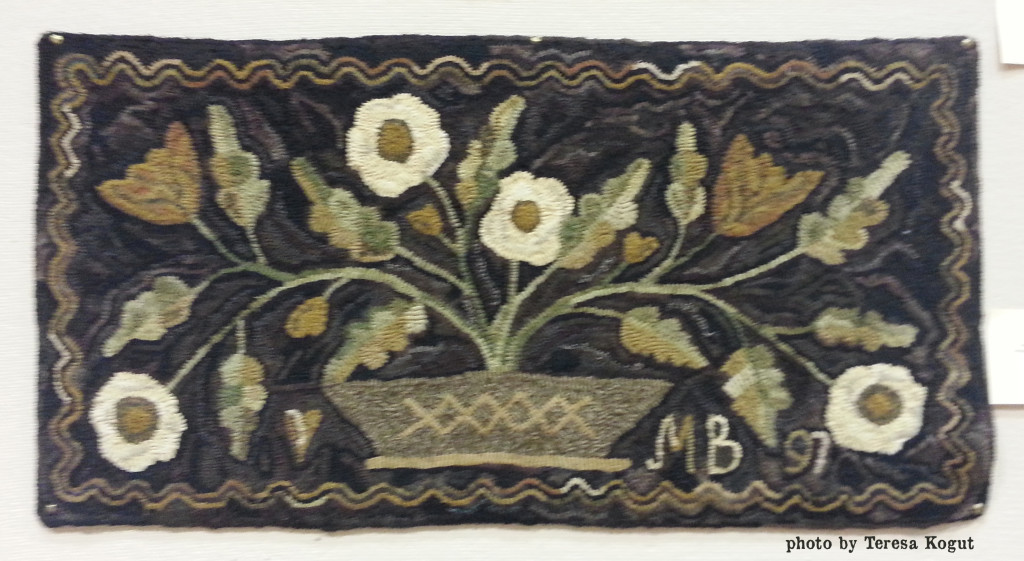 "Antique Flower Basket"
designed and hooked by Maggie Bonanomi of Lexington Missouri
(I personally love the more primitive rugs)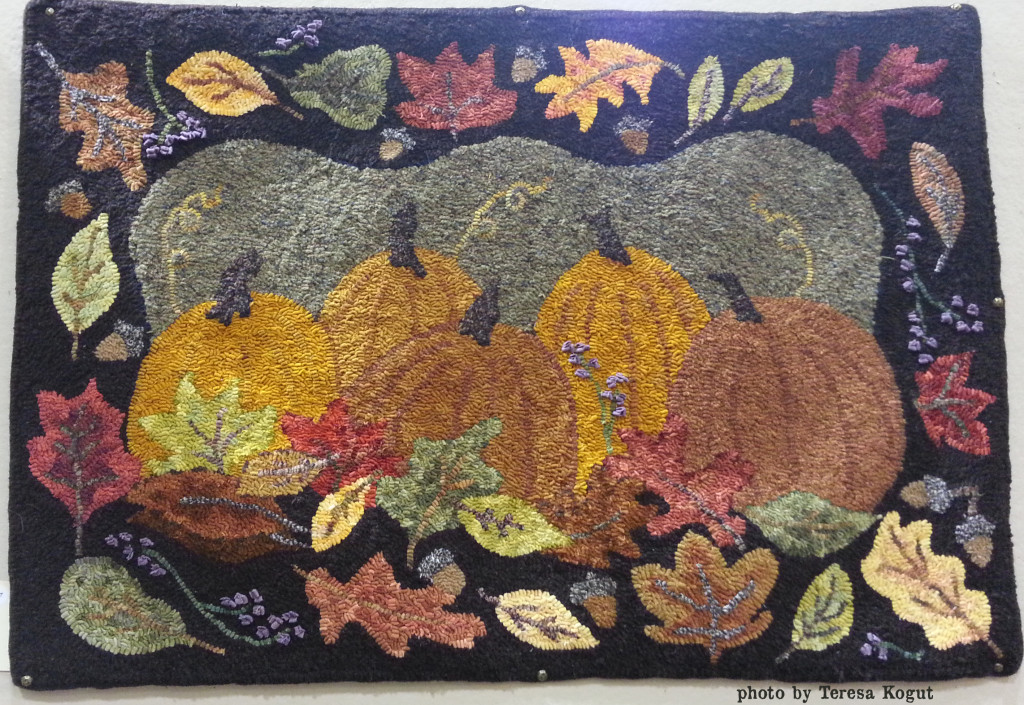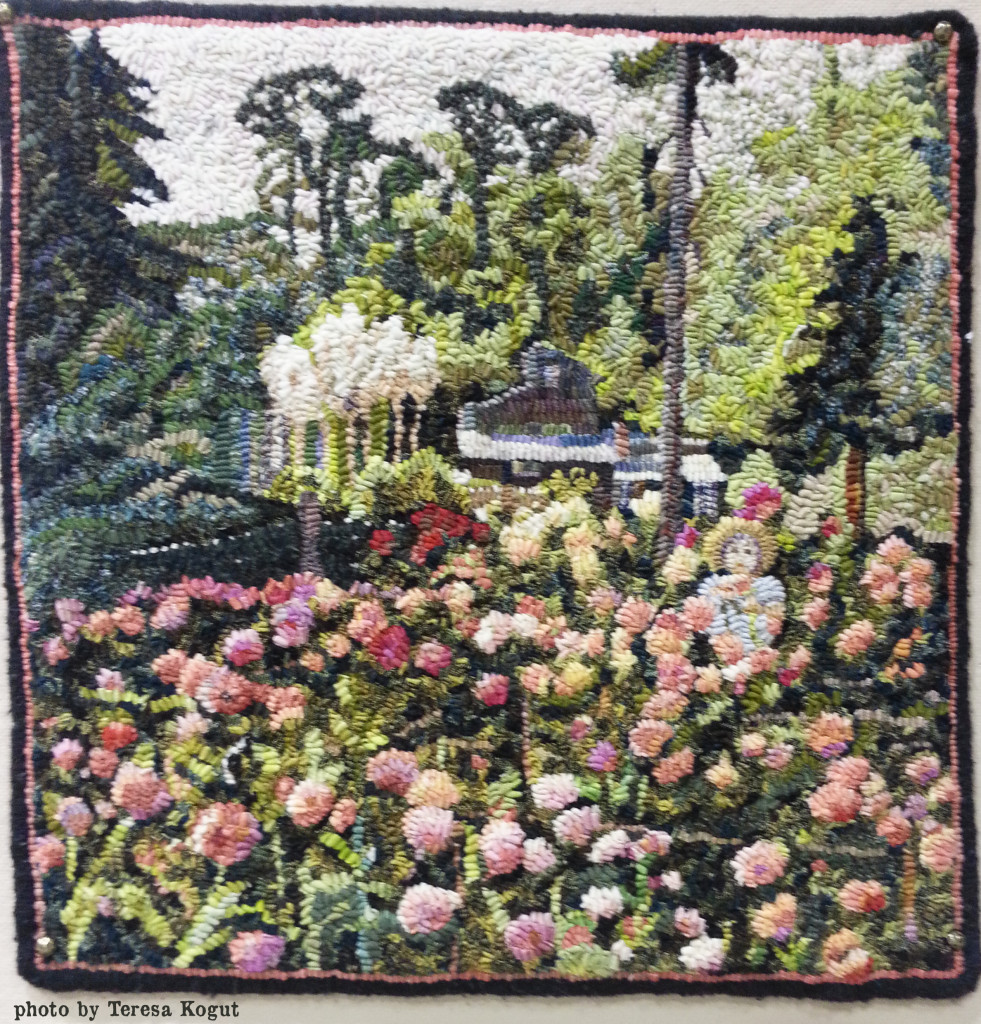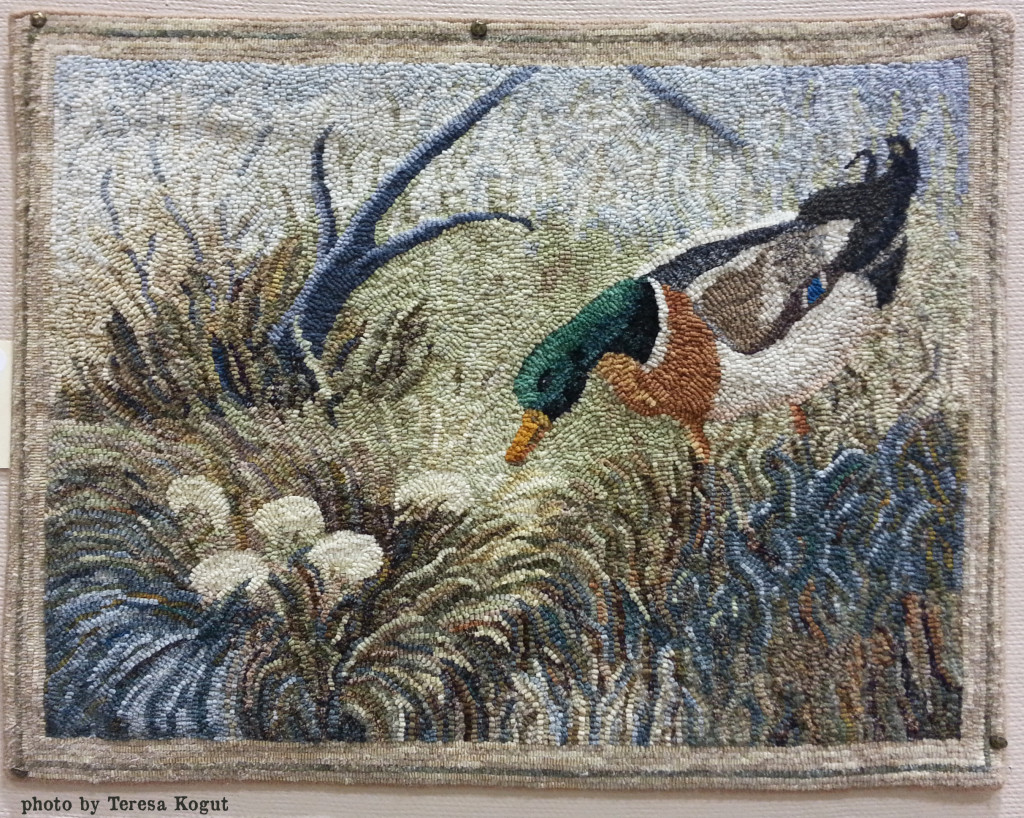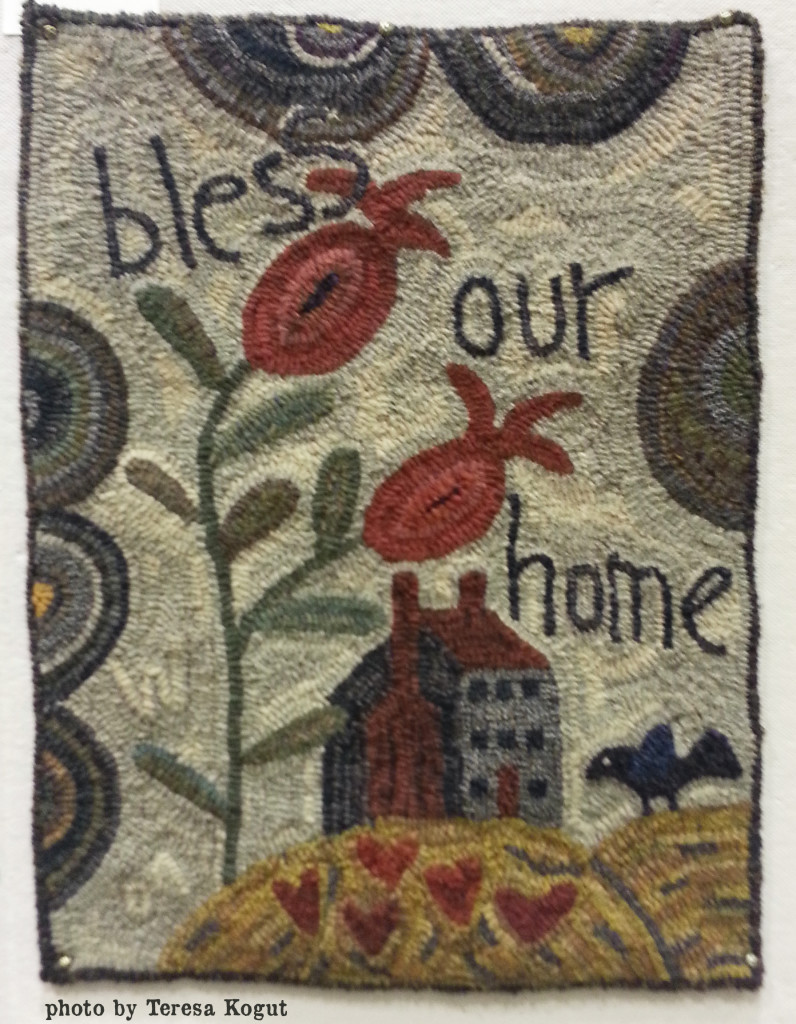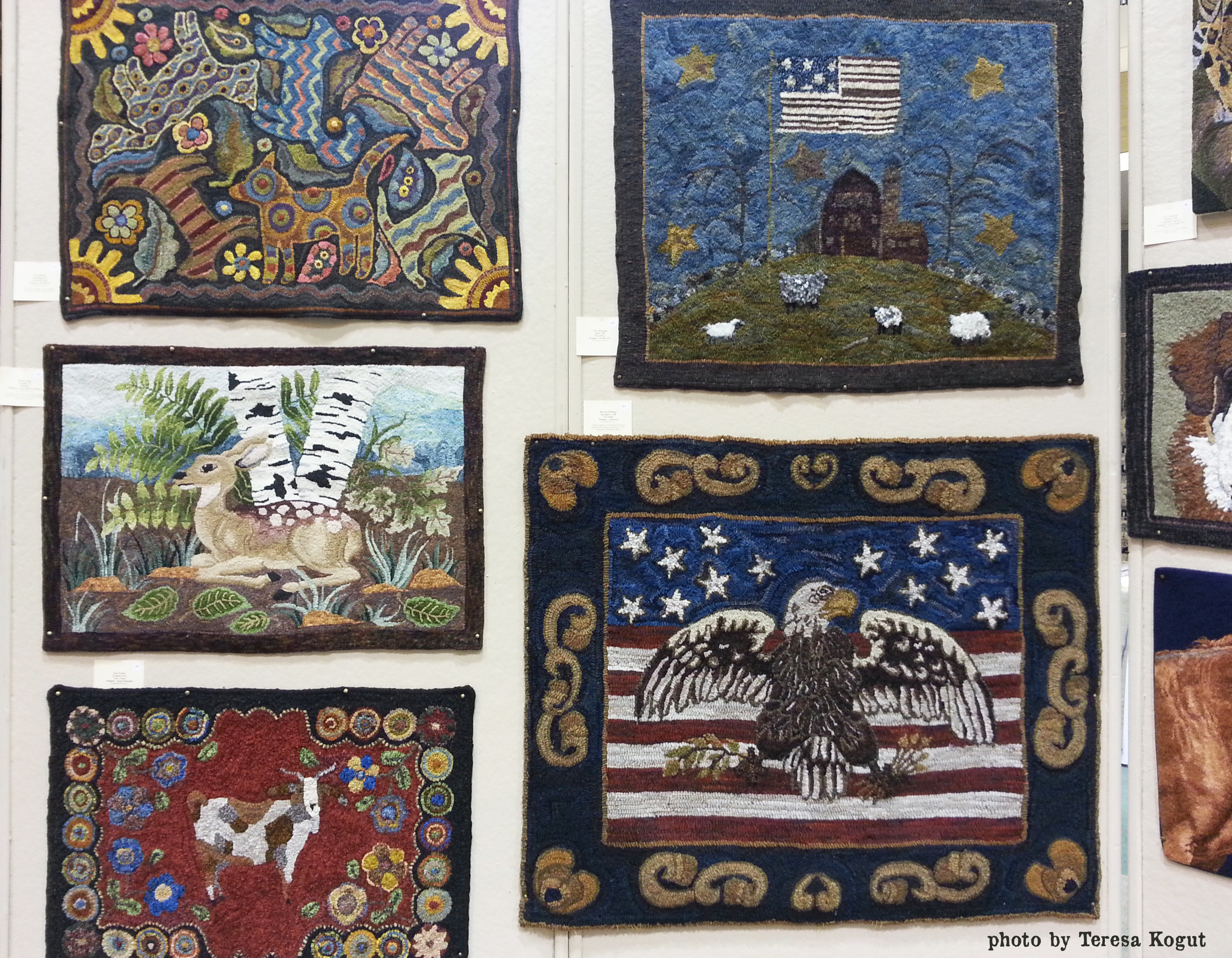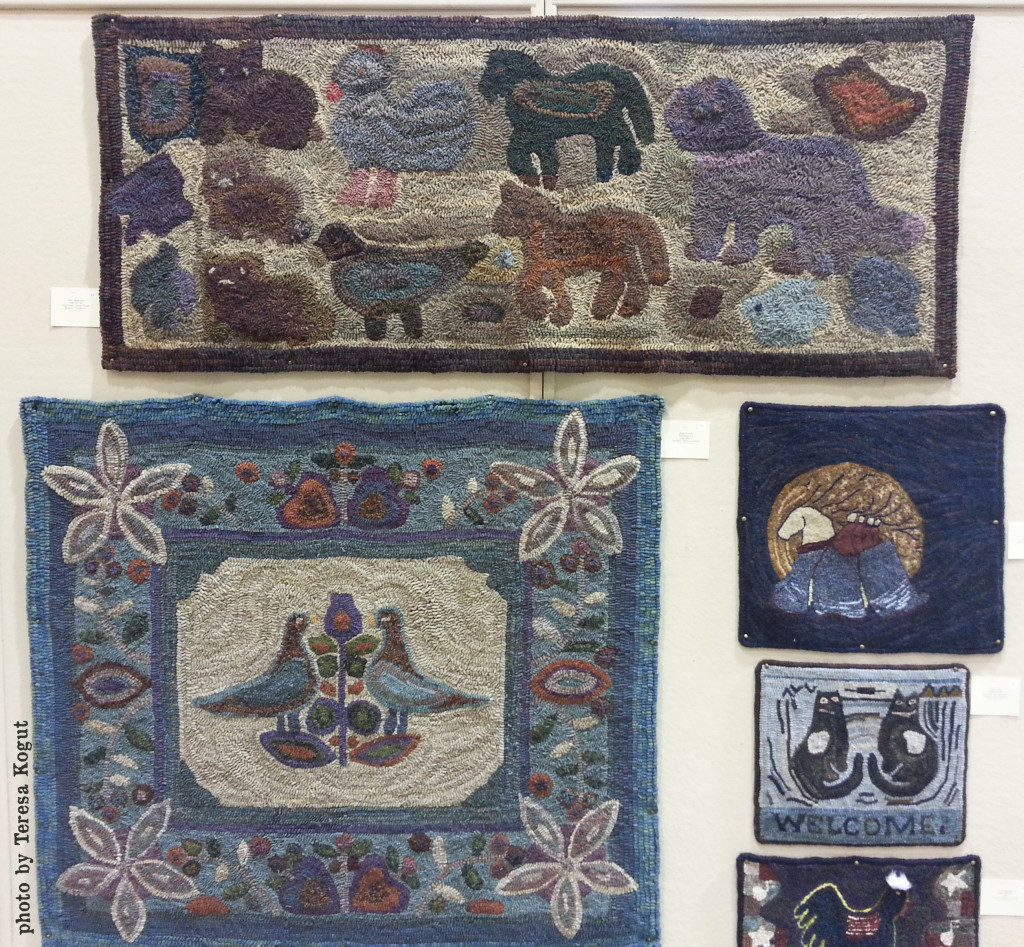 I LOVE the top one in the above photo. The wool strips were 1/2 wide. It gave the rug a very primitive look.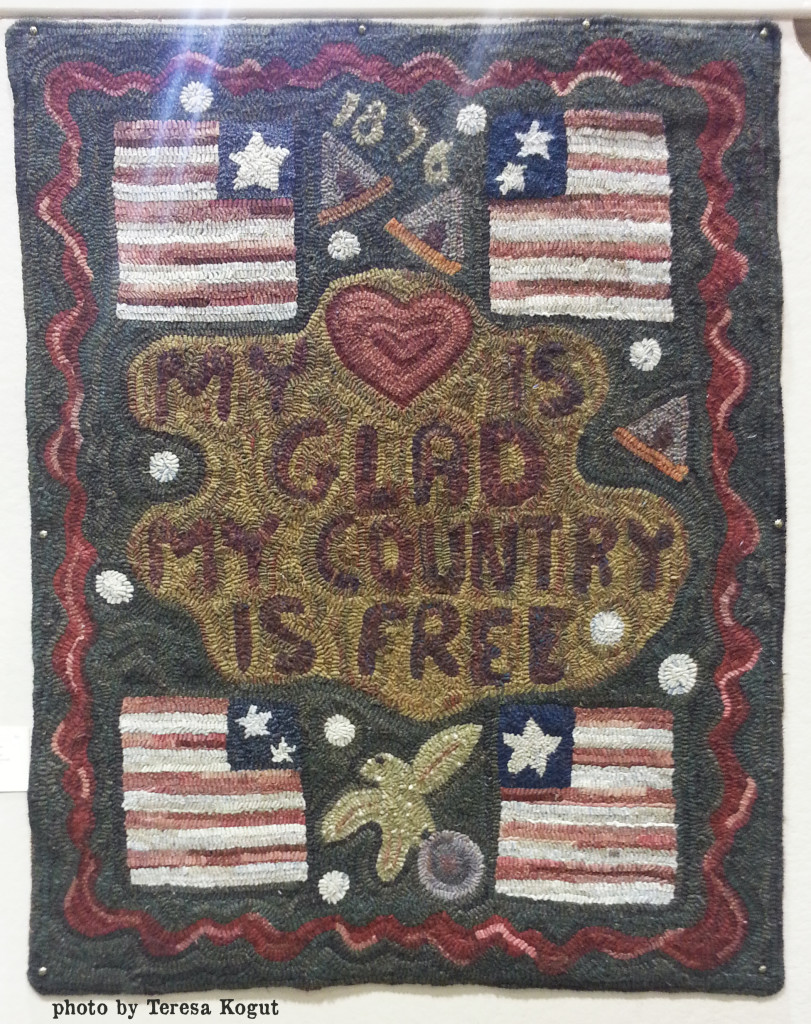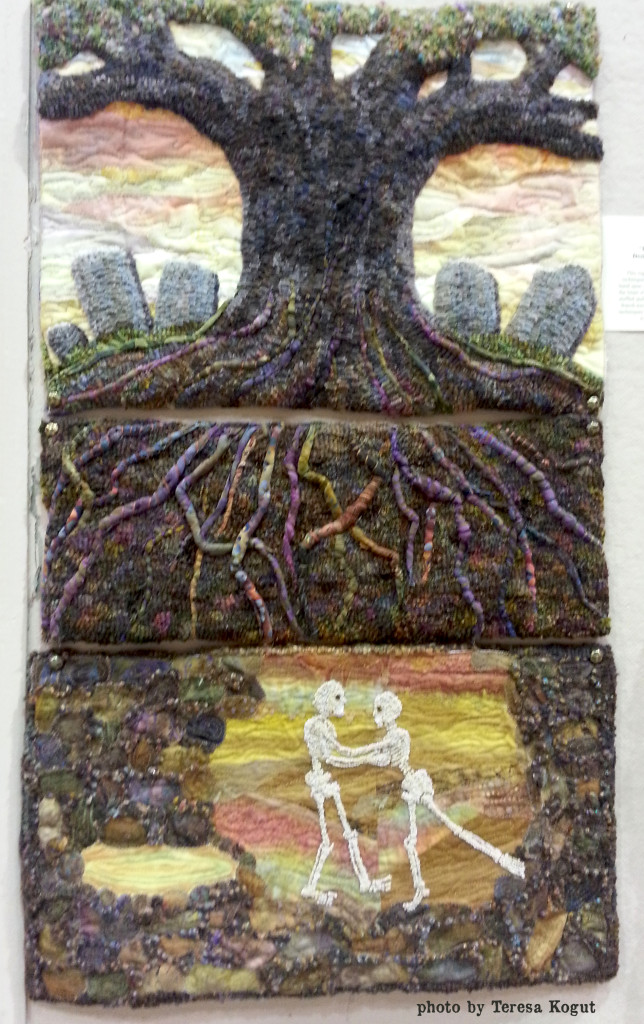 Love the combination of quilting & hooking in this mix media rug.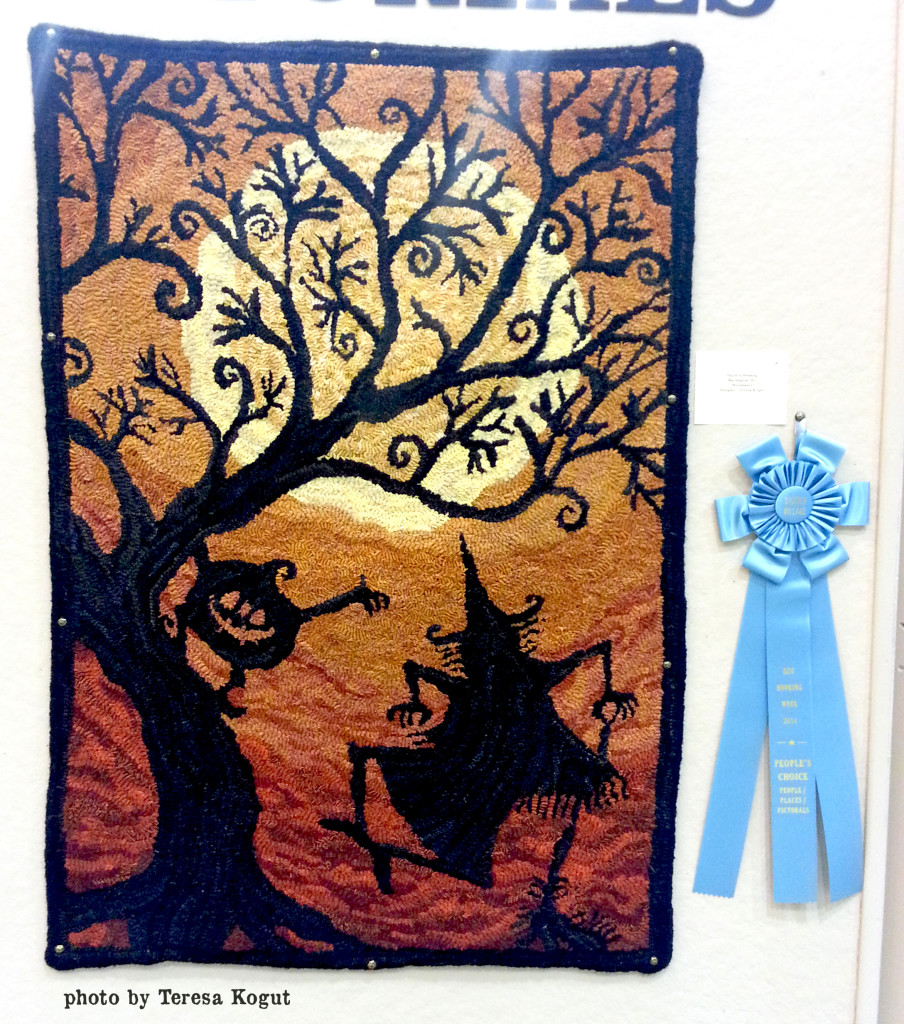 It has always been a dream of mine to have on of my designs hooked by someone and on display at Sauder!! This was a wonderful surprise!
"Moondance"
Hooked by Marilyn Denning of Burlington, Wisconsin
Thank you Marilyn, you did an amazing job!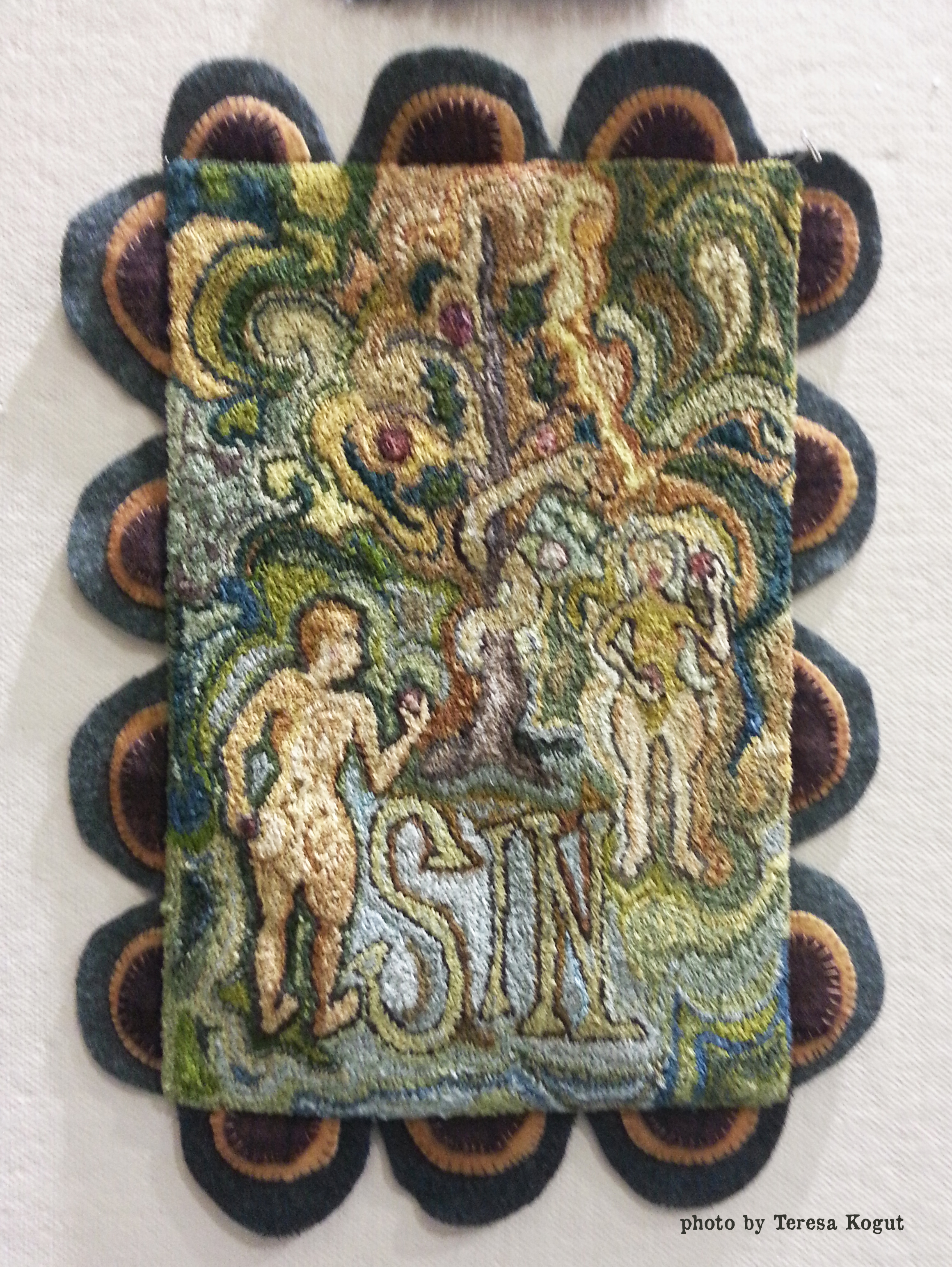 Punchneedle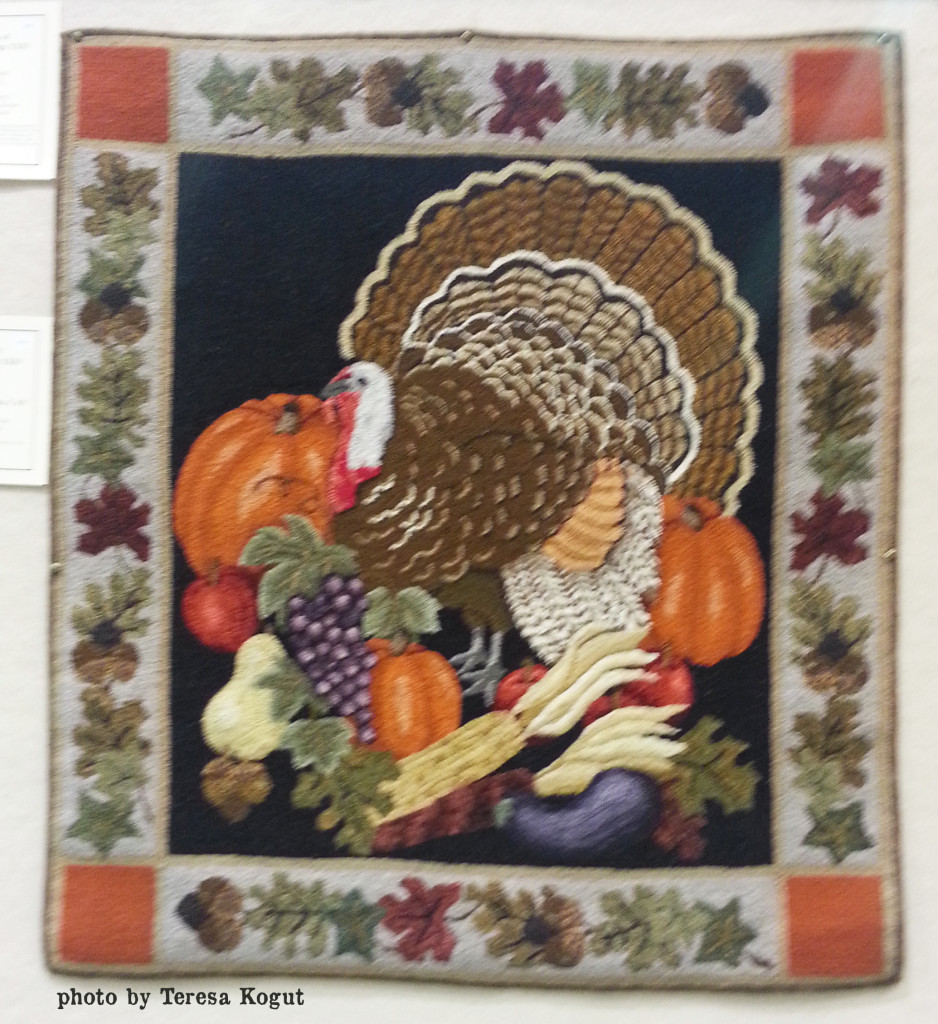 So sad this photo is blurry. It is a stunning rug!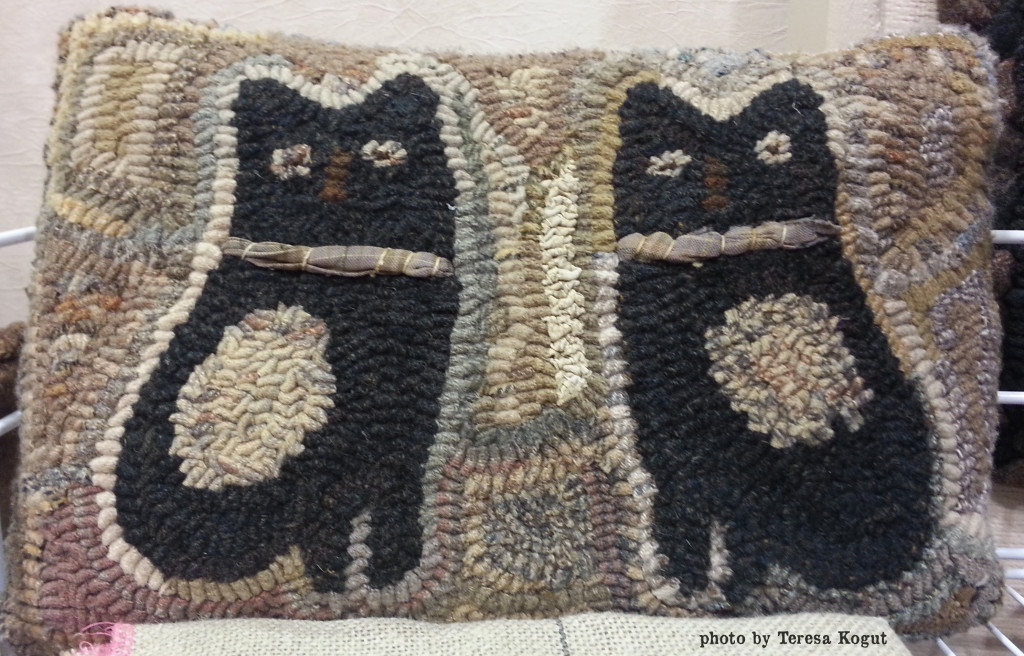 This cute prim pillow was on display in Heavens to Betsy's booth. So cute!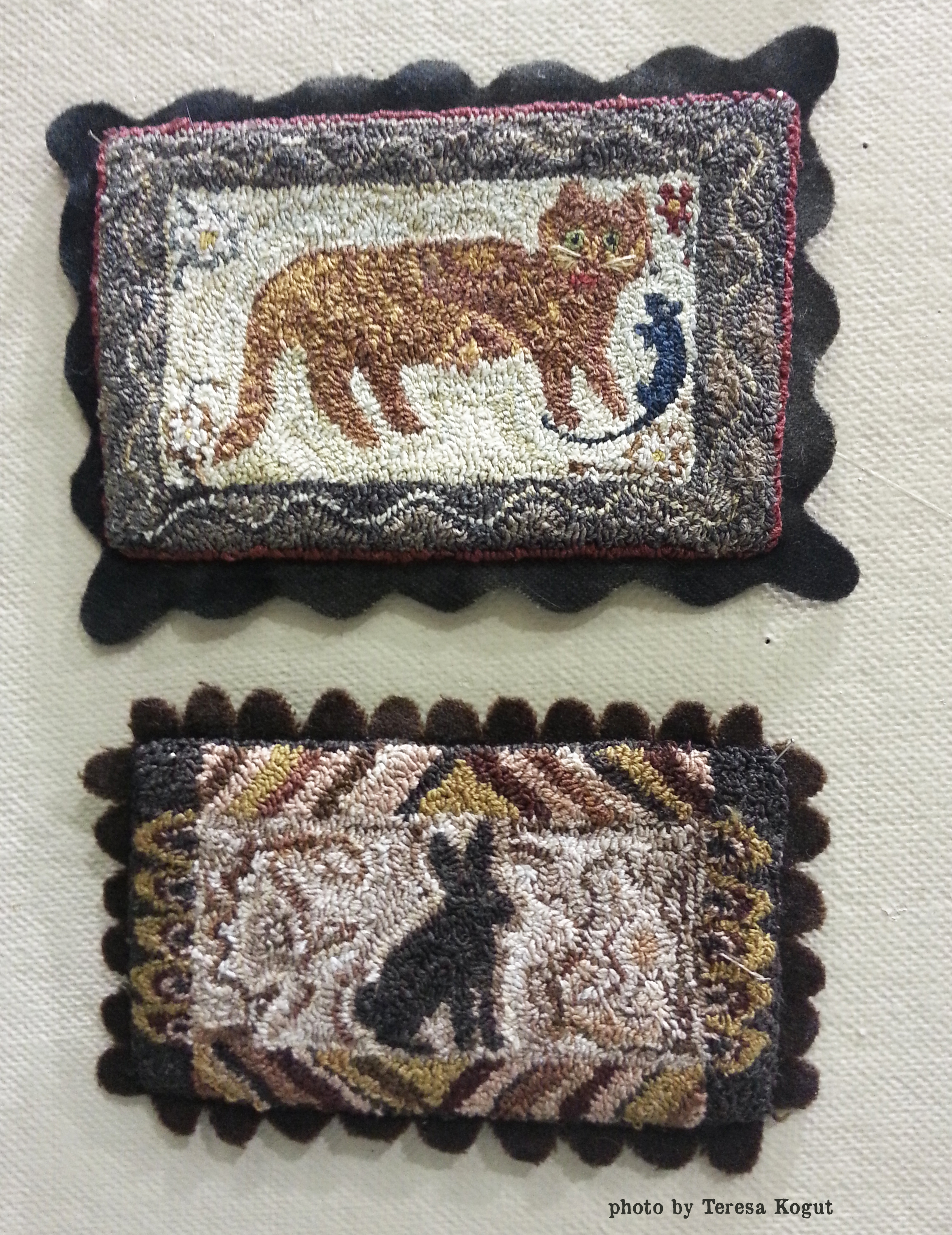 more punchneedle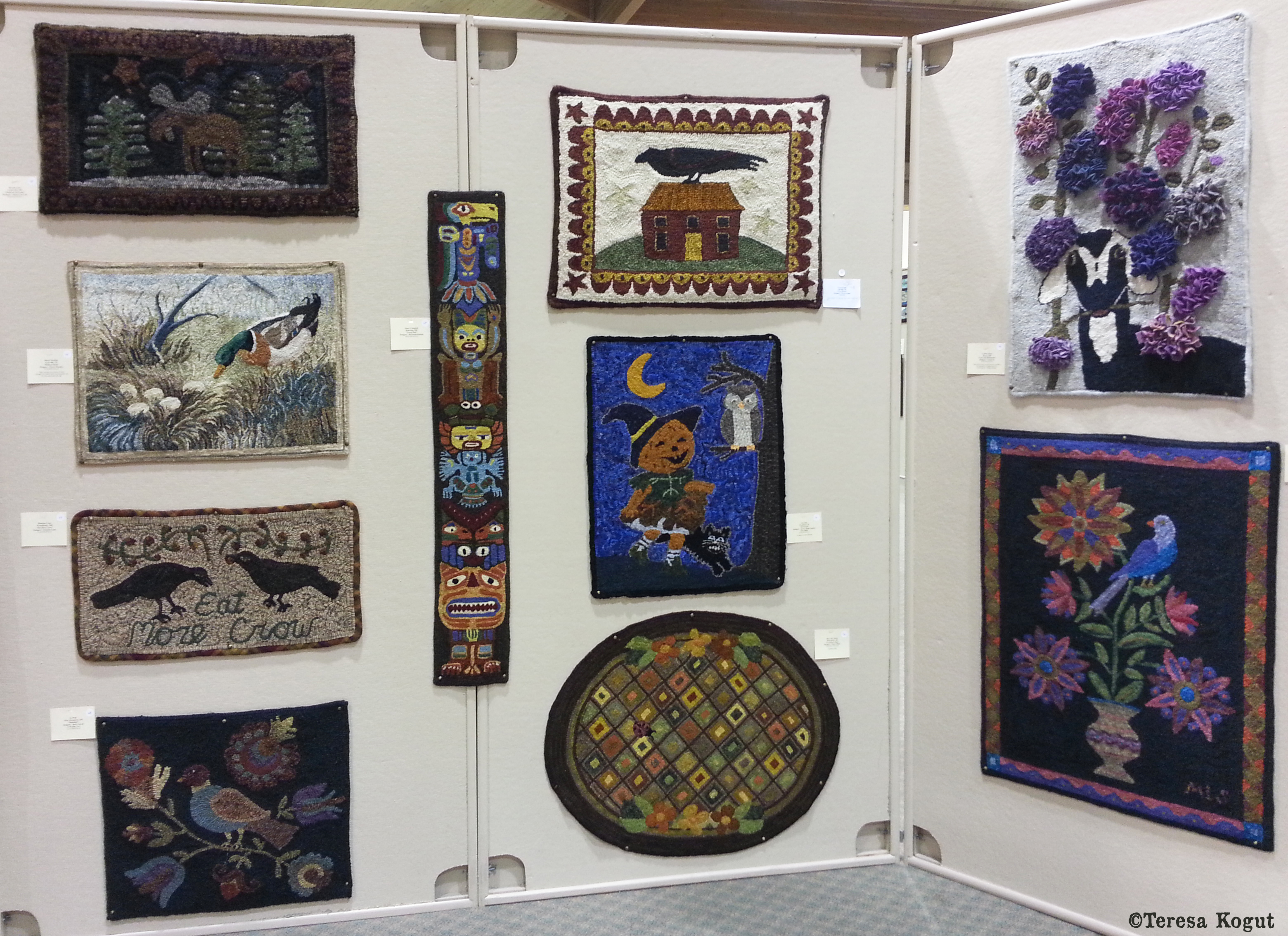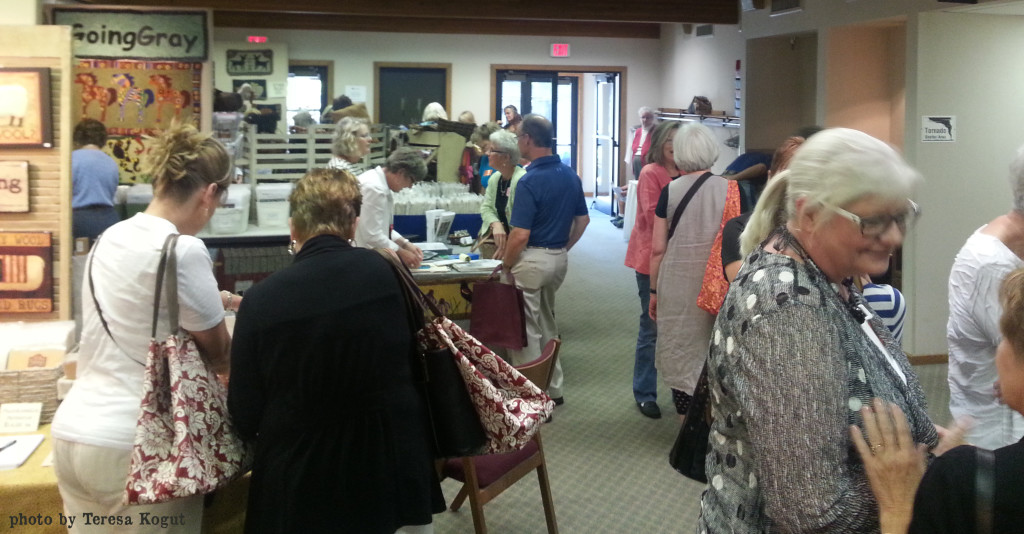 Vendors to my left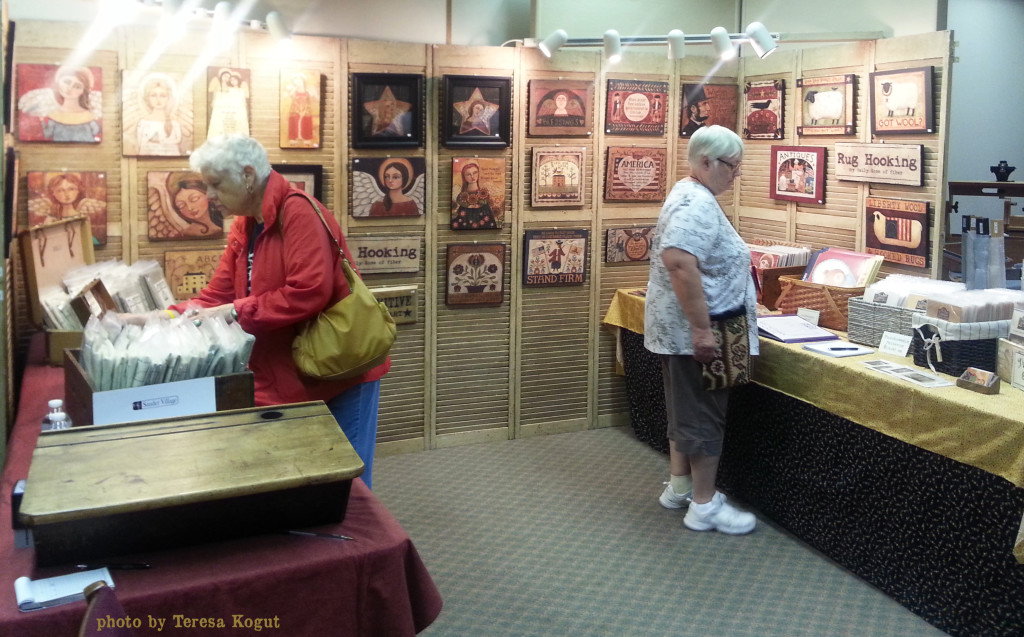 My booth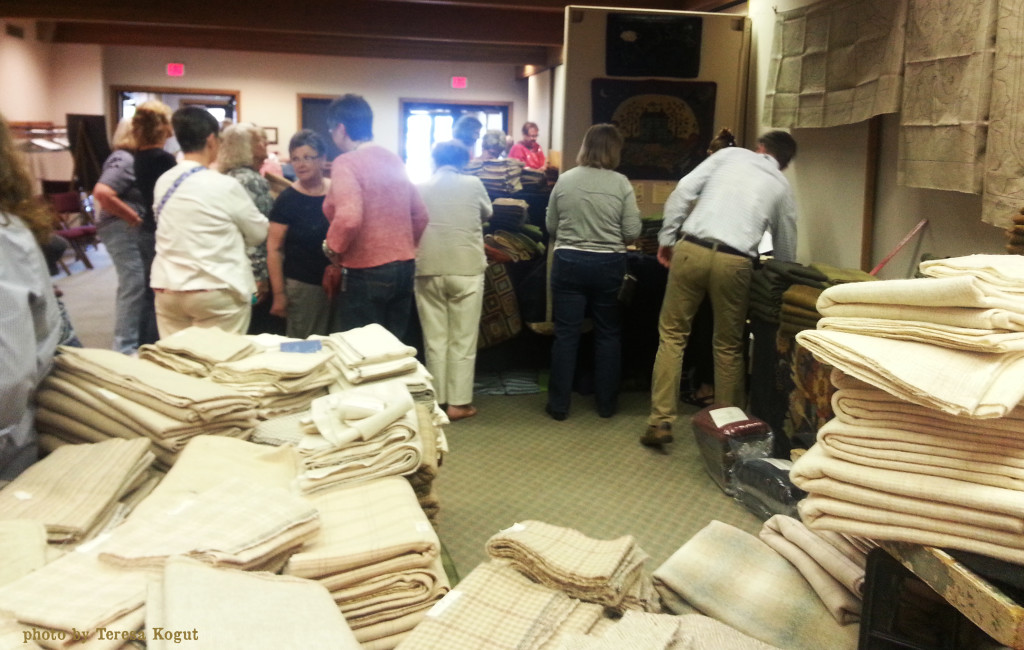 Vendors to my right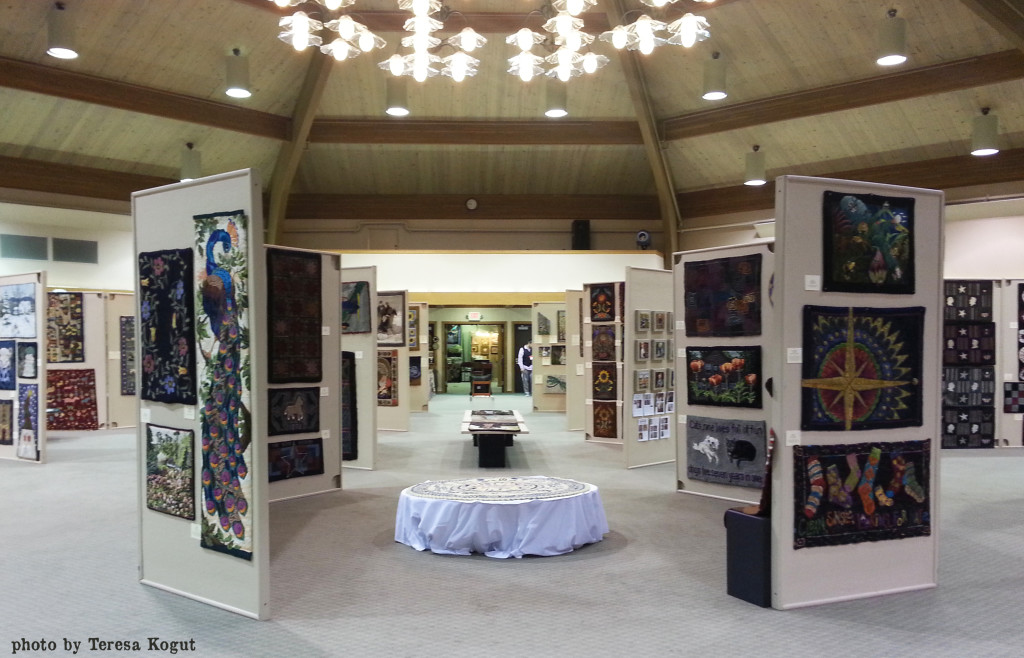 This is the view from the back of the hall. The doors straight ahead is where you'd enter the room. My booth is directly through those doors.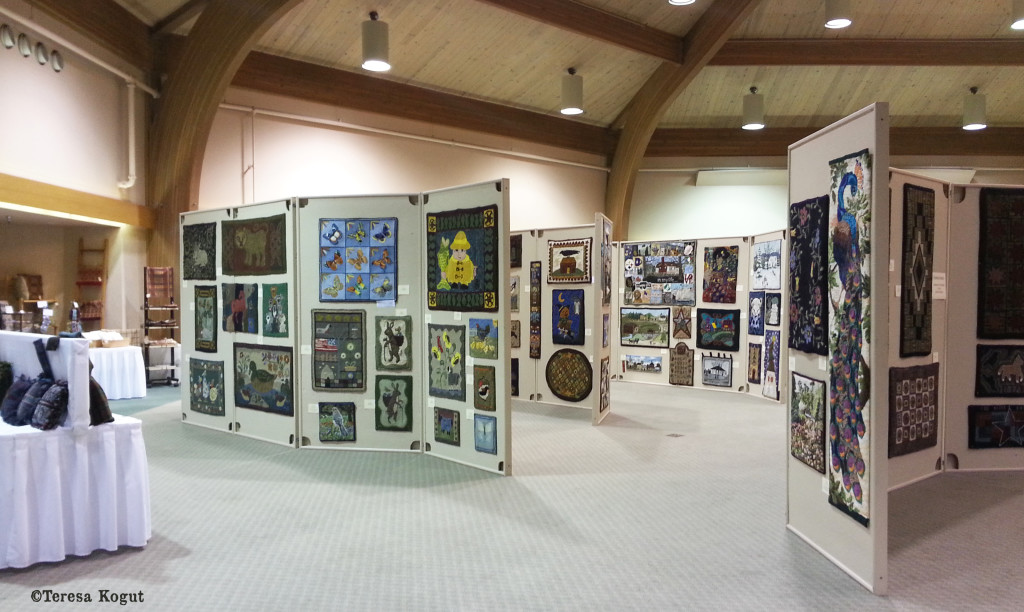 View from the back of the hall to the left.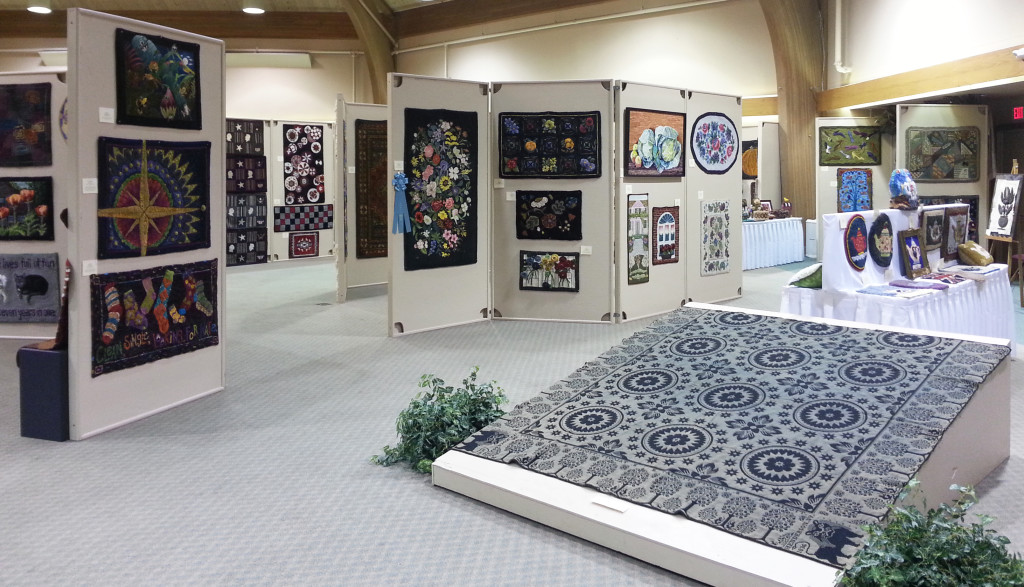 View from the back of the hall to the right.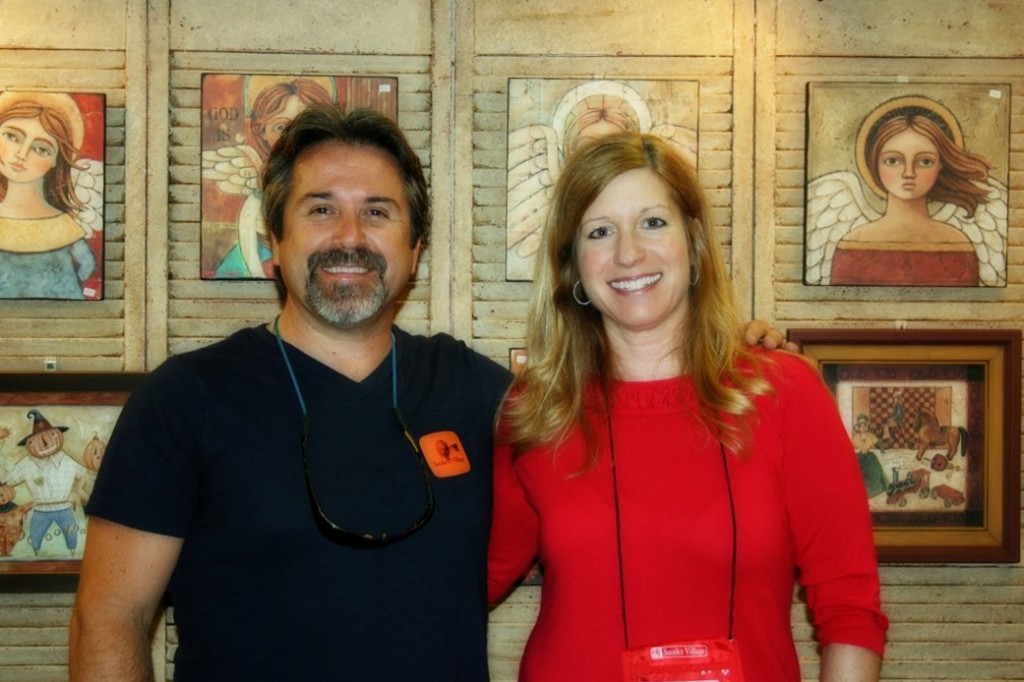 Leonard Feenan & Me
I finally met Lenny this year. Lenny is an amazing artist, you can see his work here. He and I had been messaging back and forth a bit last year. He contacted me to encourage me to translate my angels into rug patterns. Lenny translates his wildlife art into rug patterns and gave me some tips on how I could do the same with my angel paintings. (thank you, Lenny) I had several people ask if I had rug patterns featuring my angels so looks like that is in my near future!
Ali Strebel from Kindreds Spirits was also teaching and vending at Sauder. I'm going to send her my "Rejoice" angel drawn on linen along with a color print so she can color match the wool for me. She is amazing at what she does, and she does a lot!  So that's my goal by next year….to have "Rejoice" hooked and on display at Sauder's Rug Hooking Week! (wish me luck)
If you love hooked rugs, you have to find a way to attend Rug Hooking week next year! It is loads of fun and you will be filled with inspiration and joy. I am hoping to be invited back next year as a vendor. I also hope to teach punchneedle again next year as my class sold out and I had enough on the waiting list for another full class! So glad to see punchneedle still alive and kickin!! Hope to see you there!

Which rug is your favorite??