Patience: An Important Trait to Have in Art Licensing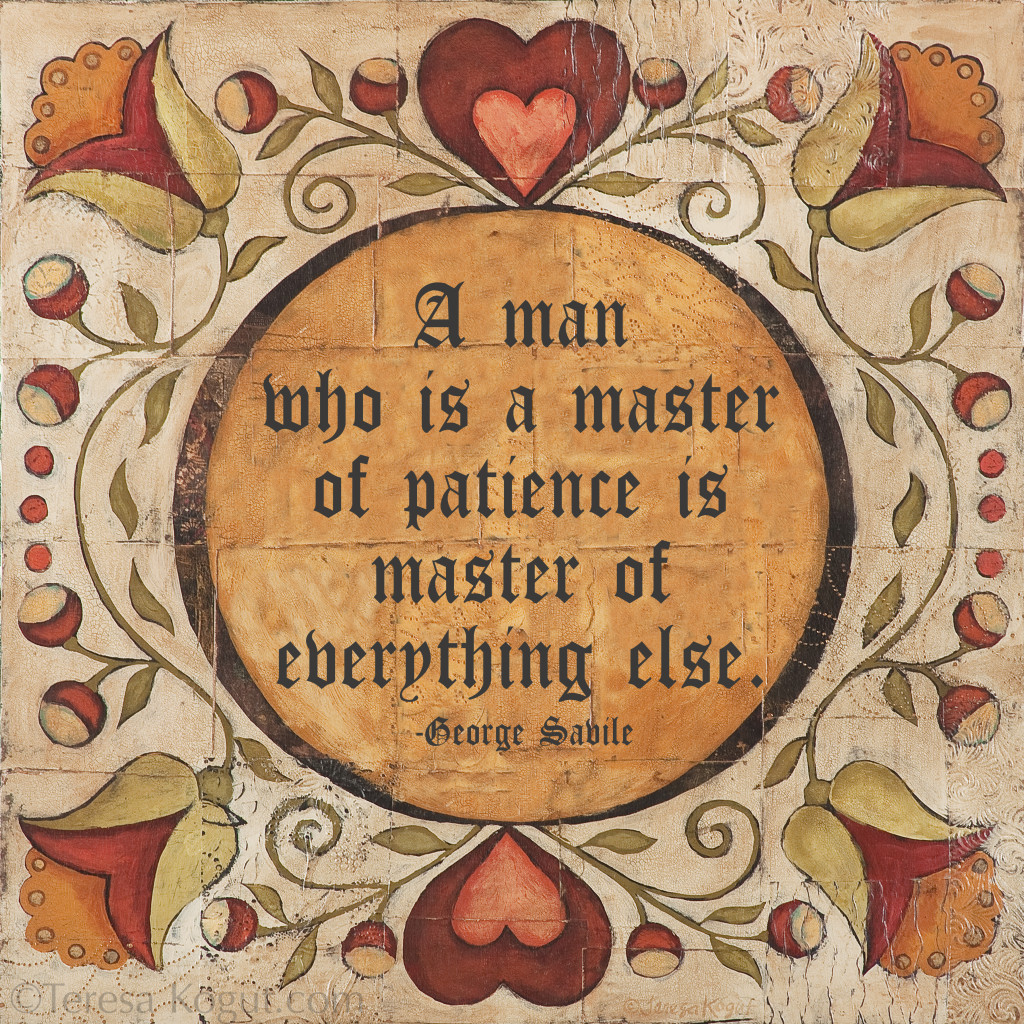 Patience
Mix Media Acrylic Prints Available
©Teresa Kogut, all rights reserved
Everything is moving faster and faster in today's society, in turn, creating a generation of impatient people with an I-want-it-now attitude. Microwaves, the internet and cell phones are just a few culprits contributing to this fast-paced world we live in but the one thing no amount of high tech can speed up is art licensing. I'm sure you've heard the saying "hurry up and wait"….well I believe they were referring to art licensing.
If you are considering art licensing for your career, I encourage you to read, read, read and then read some more about the industry. I also recommend you have a fair amount of patience in your arsenal. After developing your own style, building your portfolio (these two things alone can take a year or two unless you already have your style developed), joining a licensing agent or learning how to go it alone and finally landing your first licensing deal, it can still take up to 18 months before receiving any royalties. I am not saying this to discourage you but you need to be aware.
Below is an example of how the process can work (this is actually referring to a deal I have right now and how the timeline is playing out)
Jan 2013 – First thing is negotiating and signing a licensing agreement
The licensee may need you to expand on the line with more artwork or request changes to the existing artwork
You fulfill their requests and send in the artwork
The licensee takes your art (in digital format) and creates mock ups or layouts to their product specifications
They send to you for approval (often times this step doesn't happen, but it's nice when it does)
Changes, if any, have to be made and final touches put on the layouts
Final files are sent to the manufacturer for creating the product(s)….this can either be full production or just a prototype
If it's a prototype (sample), it will be sent to the licensee for approval
The prototype will be sent to you for approval (either photos via email or mailing you the actual prototype)
Changes, if any, have to be made and new prototype sent for approval
Jan 2014 – The next step can go one of two ways….the prototype is shown to the marketplace and based on pre-orders from the retailers the licensee decides whether or not to move forward with manufacturing OR the licensee moves into production of the product(s) and shows the product(s) to the marketplace and takes orders
Product(s) ship from manufacturer (usually from Asia) to the licensee (this will vary greatly depending on the product, but for this example, let's say it's a Christmas line so it won't ship until July/August, which is 3rd quarter)
Products ship from the licensee to the retailers and your product(s) are finally in the stores!
Depending on when the product(s) ships and what quarter it falls in, will depend on when you get paid. For this example, if the product(s) ships in July/August, you will receive your royalty Oct/Nov 2014
So as you can see by this example, patience is a necessity. Not all licensing deals will stretch out this long, but the majority will take up to 18 months.
I remember when I was young and bought a Christmas gift for my Mom. It was a figurine of a character on his knees praying and the inscription read. "God, grant me patience, but please hurry". My Mom and I have had to learn and practice this patience trait over the years….we definitely weren't born with it and still haven't quite mastered it 😉
So work diligently and keep your nose to the grindstone, so to speak, and eventually you will see the benefits of this most interesting and rewarding industry called art licensing.
Wishing you much patience in your art endeavors, my friends.